Panel Cooling Units / Precision Air Conditioning Units / Air-Cooled Chillers, Designing, Manufacturing and Distribution of Thermography


Oilproof Fan Motor
AF-1210R/1220R, AF-1510R/1520R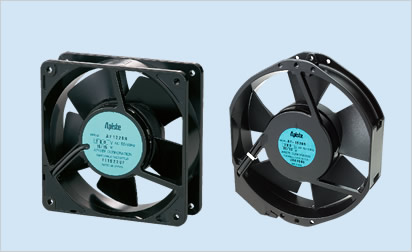 Step up FA cooler resistance under oil mist-heavy environment conditions.
Applicable Models
Make
Roof-mount type
Wall-mount type
AF-1510R
ENC-AR310EX / ENC-AR510EX
ENC-AR710EX / ENC-AR1110EX
ENC-AR810EX / ENC-AR1310EX
ENC-AR310L / ENC-AR610L
ENC-AR1110L / ENC-AR1651L
ENC-351WL / ENC-AR310LE
ENC-AR510LE / ENC- AR810LE
ENC-AR1310LE
AF-1510R
ENC-AR320EX / ENC-AR520EX
ENC-AR720EX / ENC-AR1120EX
ENC-AR1652EX / ENC-AR2900EX
ENC-A3500EX / ENC-AR820EXE
ENC-AR1320EXE
ENC-AR320L / ENC-AR620L
ENC-AR1120L / ENC-AR1652L
ENC-AR2200L / ENC-AR2900L
ENC-352WL / ENC-AR320LE
ENC-AR520LE / ENC-AR820LE
ENC-AR1320LE / ENC-AR2400LE
1510R
-
ENC-AR451S
1510R
-
ENC-AR452S
●Compatible with air radiating fans. Please make a separate inquiry regarding changes to internal circulating fans.
●The above-listed FA cooler models are current as of March 2010.
●Please confirm power supply and voltage when placing an order.
●Only domestic standard machines are listed. Please make a separate inquiry for changes to overseas models.
Super reliable structuring improves oil mist resistance for even small and fine parts!!

>Achieving high FA cooler oil resistance for manufacturing sites where oil mist flies all over!!

Specs
Format
AF-1210R
AF-1220R
AF-1510R
AF-1520R
Voltage rating (V)
Single-phase AC100
Single-phase AC200
Single-phase AC100
Single-phase AC200
Input (W)
16
15
30/32
Rotations per minute (rpm)
2650
3050
2800/3300
Max. air volume (m/min)
2.3
2.6
5.7/6.7
Max. static pressure (Pa)
63.70
61.74
172/217
Noise (dB)
40
44
52/57
Use area temperature range (℃)
-10~60
-10~70
Use area humidity range (%RH)
35~85
35~85
Protection scheme
Impedence protection
Thermal protection
Insulation classification
E type
Insulation resistance
Over 100MΩ at DC500V mega
Voltage resistance
No malfunction at 1 minute of AC1500V application (Leak current 0.5mA or less)
Mass (g)
600
870
Wind pressure~static pressurecharacteristic curve
AF-1210R/1220R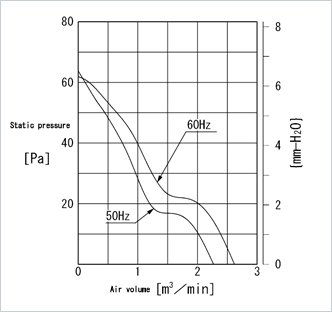 AF-1510R/1520R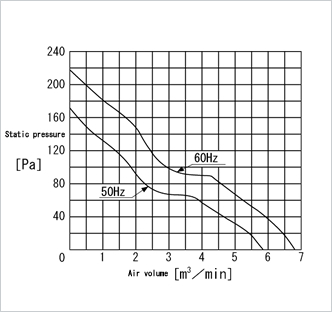 Outline dimensional drawing
AF-1210R/1220R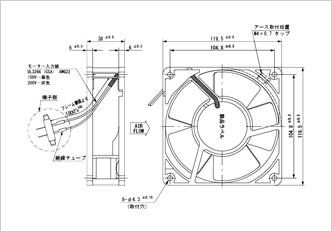 AF-1510R/1520R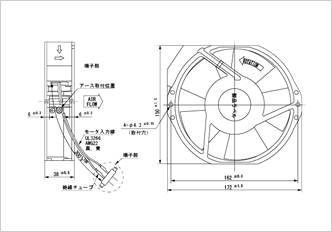 Anti-oil mist test data
Test contents
Model used

: AF-1510R 5 units (No.1~5)

Surrounding environment

: Mist volume 169ml/h (inside 1m3 plastic tent)

Oil used

: Cutting oil (Daphne Milcool AL: Water=1 : 80)

Test time

: 8 cont.hrs./day for 11 days (AC100V, 50Hz)
Test results
*Inside plastic tent, measured at normal temperature, normal humidity
Sample
No.
Before test
After test
Insulation resistance after test
Judgment criteria/100MΩ or above at
DC500V mega
Current (A)
Rotations per minute (RPM)
Current (A)
Rotations per minute (RPM)
1
0.326
2844
0.325
2840
OK
2
0.324
2844
0.323
2843
OK
3
0.326
2842
0.324
2843
OK
4
0.324
2840
0.325
2837
OK
5
0.327
2845
0.325
2843
OK