Design, Manufacturing and Distribution of Precision Air-conditioning Units/Local air Conditioning Units, and other Heat Prevention Equipment
Instant Precise Dry Air Unit


Instant Precise Dry Air Unit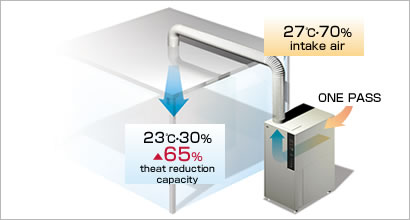 Instant dehumidification of air humidity of up to -65%
The fusion of our own ideas and refrigerating technology. Our newly developed cooling/humidification cycle and MAX-DRY control system achieves up to -65% instant powerful dehumidification of air humidity with the cooling cycle alone. Provides amazing dehumidification performance in a variety of production facilities.
PAU-AZ2000SE-DR
Instantly provides dry air using only a cooler without circulating.
Instantly dehumidify high-humidity air with just one pass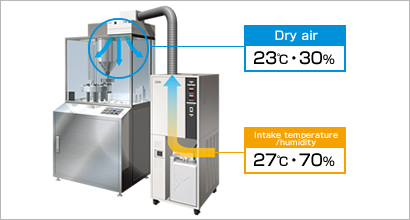 MAX-DRY Operation Method
Traditionally, it was difficult to achieve instant 65% dehumidification of air humidity with just the cooling cycle, but Apiste has developed its very own "MAX-DRY Operation Method" which draws out excellent dehumidification powers with only the cooling cycle.
PAU-W2600S-DR
Achieving low-temperature environments in all kinds of production facilities with amazing dehumidifying power.
Instant powerful dehumidification with the cooling cycle alone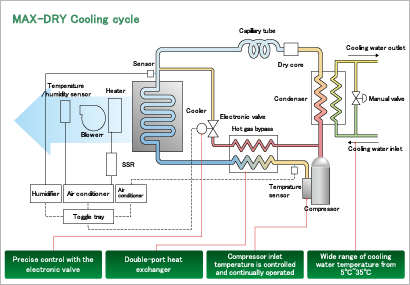 Achieving dew-point temperature of 4℃
Controlling the electronic valve, it precisely controls the flow rate of hot gas coolant.
While continuously running the compressor, it achieves maximum dehumidification without ever freezing the cooling unit.
Draws out maximum dehumidification power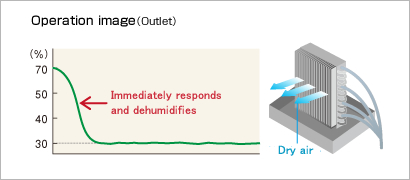 MAX-DRY Control
We've developed this extreme dehumidification algorithm which draws out amazing power just before freezing the cooling unit and continues to operate while avoiding electrical overload. Constantly monitoring coolant temperature at the entrance to the cooling unit and the temperature at the admission port to the compressor, once either of those goes under the temperature limit each unit executes precise and real control via hot gas coolant through an electronic valve. It achieves ultimate dehumidification by continuously maintaining the cooler unit's condensation limit point.
Able to continuously supply low-humidity air with one pass
Supplied air volume 8m3
Effective at supplying low-humidity air for production processes using powders/organic solvents.
Wide range-compatible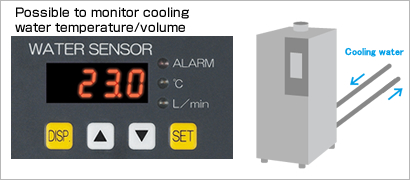 Coolant water temperature 5℃~35℃
the temperature of the coolant water cooling the condenser, for normal refrigeration cycles, is generally 15℃~30℃. Dropping below that causes the cooling unit to become supercooled and freeze, which was a problem. With Apiste's newly developed refrigeration cycle and MAX-DRY control, we've achieved wide range compatibility for coolant temperature ranges of 5℃~35℃.
14-bit temperature and humidity sensor

Able to acquire high quality digital temperature and humidity data
With the seamless construction combining calibrated, digital data-retrieving temperature and humidity sensors and a 14-bit A/D converter with each sensing device, external noise influence is extremely reduced. You can retrieve high quality digital temperature and humidity data.
LAN cable compatible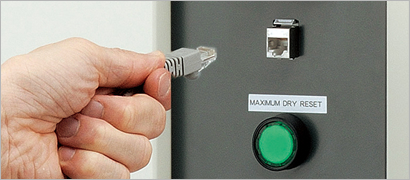 Making connection simple
The sensor head and cable can be easily connected. You can also decide on the head position and attach a cable later. Cable length can also be adjusted freely.
The limits of dehumidification with general air conditioning equipment
For dehumidification with general air conditioning equipment, coolant pressure is adjusted to make surface temperature 7℃ in order to keep the refrigeration coil from freezing. This causes dew point of blown air to be approximately 11℃~12℃, and dehumidification under that dew point is impossible.
| | General Air Conditioning | W2600S-DR |
| --- | --- | --- |
| Dew Point | Approx. 12℃ | 4℃ |
With general air conditioning, the dew point is limited to approximately 12℃. Apiste's MAX-DRY control makes dehumidification possible at a dew point of 4℃.
At 23℃, these become 50% and 30% respectively, with a difference of approximately 20%.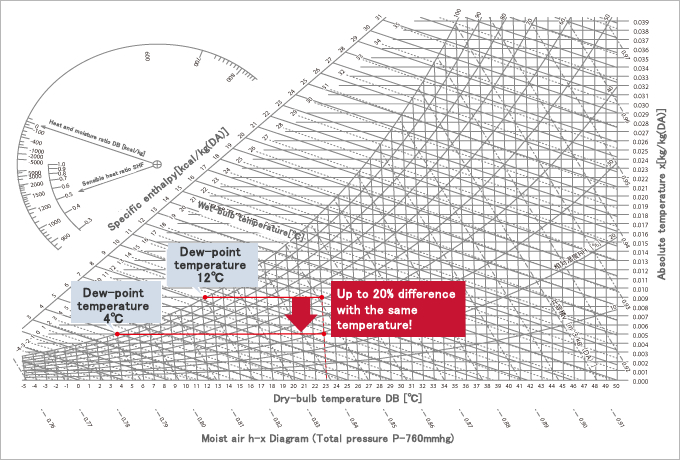 Comparison with dehumidifying rotor system (chemical adsorption)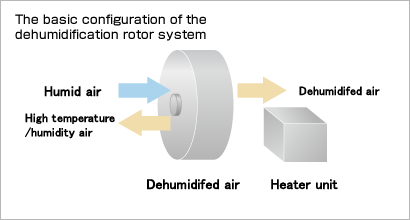 Dehumidification
Rotor system
W22600S-DR
Refrigeration coil
Large
Small
Initial
Large
Small
Exhaust heat
Yes
No
With rotor systems, seen often in large-size dehumidification equipment, moisture is adsorped into discotic silica gel which is then heated by a heater, causing a lot of exhaust heat. Also, running costs increase due to the recooling of that exhaust heat, etc.