Design, Manufacturing and Distribution of Precision Air-conditioning Units/Local air Conditioning Units, and other Heat Prevention Equipment
Water Cooling / FFU Temperature Adjustment Unit


Water-chilled/FFU Air-conditioning Unit
Achieving temperature control/cleanliness control with only coolant water.
PAU-W2600HEF/PAU-W5200HEF
Fine filter unit loaded with temperature control fucntions.
Supplying clean air with a HEPA filter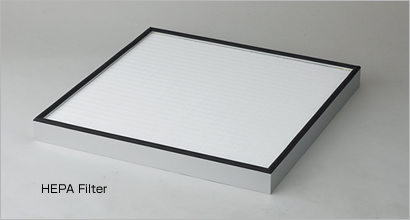 The internally loaded HEPA filter allows for cleaning of air in local spaces.
Class
100
1,000
10,000
100,000
Ventilation frequency
250~400 times
150 times
75 times
20 times
Particle count
3,530/m2
35,300/m2
353,000/m2
3,530,000/m2
100/ft2
1,000/ft2
10,000/ft2
100,000/ft2
Wind speed
0.2~0.4m/s
0.1~0.2m/s
0.05~0.07m/s
0.05~0.04m/s
Possible to use factory internal coolant water for temperature control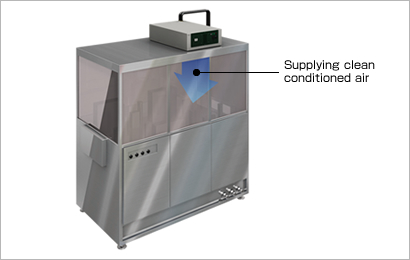 Without using a cooling machine, just by utilizing coolant water in a factory, temperature control is possible. The precision air created by the unit passes through a HEPA filter, providing for clean air with a high level of purity.