Design, Manufacturing and Distribution of Precision Air-conditioning Units/Local air Conditioning Units, and other Heat Prevention Equipment
Select Air Cooling / Water Cooling According to Placement Environment


Can be selected depending on the "Air-cooled/water-cooled" installation environment
Air-cooled type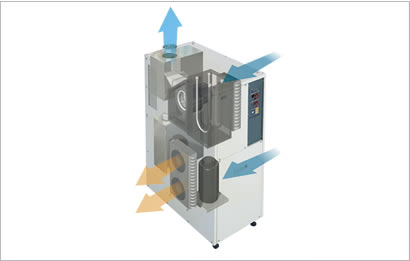 This method cools via suction (air), and performs heat exchange for refrigeration coils.
The fan motor installed to the heating coil performs discharge.
Since heat exchange coolant water pipes are unnecessary, installation is relatively simple.
(*Humidifier pipes are required for humidifier-loaded models.)
Temperature control type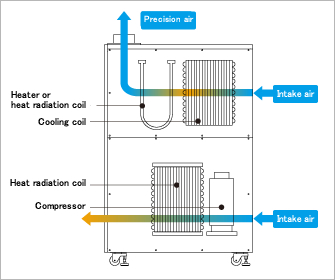 Temperature/humidity control type
Water-cooled type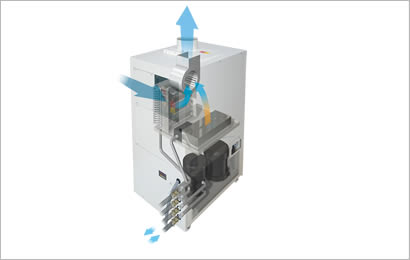 Refrigeration cycle heat exchange is performed by coolant water with this system.
Heat exchange rate is high compared to the external air coolant, and it's also stable, allowing for compatibility with low air volume (1m3/min) to up to larger air volumes (120m3/min).
Since there is no fan motor heat discharge, there is no need to worry about the creation of dust.
Perfect for environments which require extra high levels of cleanliness.
Temperature control type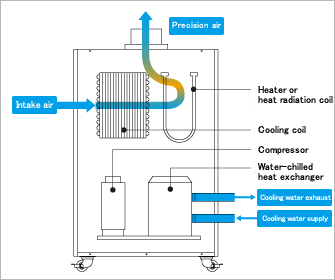 Temperature/humidity control type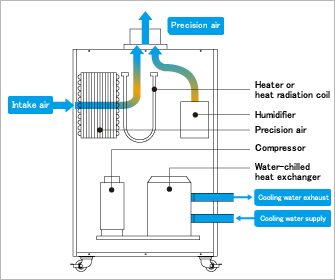 Various methods of ventilation/installation are possible
PAU unit + clean fan unit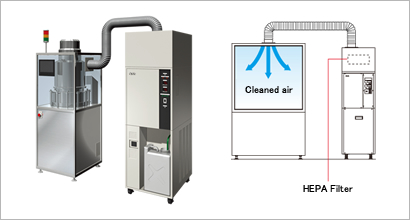 Creating a perfect clean environment
By passing precision air created by the PAU unit through a HEPA filter, supply of highly clean air is made possible. Clean fan units can be selected according to target space area and cleanliness level, so temperature/humidity control plus a clean environment can be realized.
PAU unit/HEPA all-in-one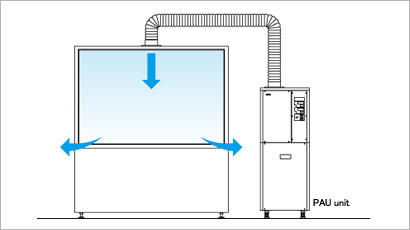 Saves space and cleans precision air
A HEPA filter is loaded to the PAU unit. Precision air is cleaned inside the unit. Even when there is no space to install a clean fan unit in the target space/chassis, it can be connected to the PAU unit with only the installation space for a special duct connection flange.
All fresh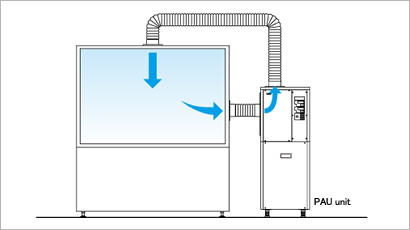 Effective even when there are lots of nooks and crannies in the target space or when powder/organic solvents occur internally.
Internal circulation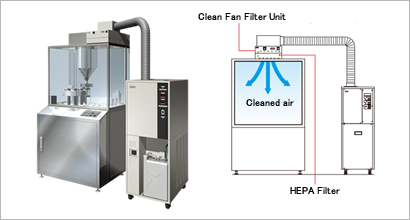 It sucks in air from the target space and circulates it, returning it again. We also have parts for circulation as well.