Panel Cooling Units / Precision Air Conditioning Units / Air-Cooled Chillers, Designing, Manufacturing and Distribution of Thermography
(Motor Vehicle) Machinery Processing


Motor Vehicle
Machinery Processing
1.Cooling The NC Control Panel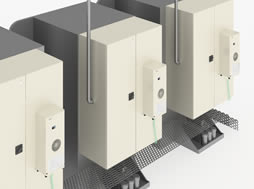 Where machine toolsa are installed, there are oil mist scattering all over the place, and the summer temperature tends to be higher. With the air-conditioner for the control panel, cooling, dust-filtering, and dehumidification are possible.
Panel Cooling Units
The equipment also handle the dust-cooling, duhuimidification, and dust-filtering for the interior of the control panel. It always maintains the best condition.

2.Cooling The Main Shaft Of The NC Processing Machine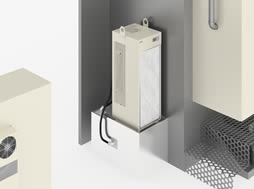 In order to prevent the decrease of the processing accuracy by the heat generated by the spindle motor, cooling is carried out by the oil chiller.
Oil Chillers
[Hard To Break] is the the concept for the oil chiller. It works just well under the condition in which outside temperature is high, and oil mist is scattering all over the place.

3.The Dust-Filtering Of The Control Panel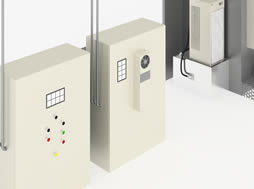 Cooling for the control panel done by typical fan motor generates dust in the surrounding area and allows oil mist to scatter. By enhancing the sealing with the heat exchanger, dust-filtering for the control panel can be carried out.
Heat exchanger for Control panel
The intrusion of fine particles into the panel can be prevented by sealing the control panel.