Panel Cooling Units / Precision Air Conditioning Units / Air-Cooled Chillers, Designing, Manufacturing and Distribution of Thermography
(Electrical Machinery) Electron Parts


Electrical Machinery / Electron
Electron Parts
1.The Work Temperature Control For Various Inspection Equipment
The chiller unit controlls the work temperature for inspection equipment and others.
It can maintain the condition of the inspection environment all the time.
Chiller Units
Circulating water temperature control in a wide temperature range is possible.

2.The Temperature/Humidity Control For Electronic Components Manufacturing Apparatus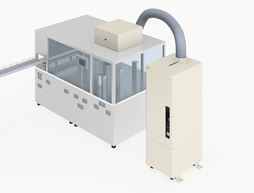 The temperature/humidity witin the apparatus can be affected by the surrounding environment.
With the precise air-conditioner, the stable environment is achieved throughout the year.