Panel Cooling Units / Precision Air Conditioning Units / Air-Cooled Chillers, Designing, Manufacturing and Distribution of Thermography
(Steel / Metal) Rolling Process


Rolling Process
Rolling Process
1.Cooling For The IO Control Panel Of The Rolling Mill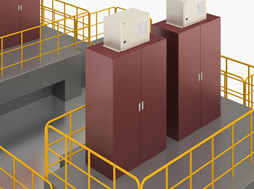 The control panel of the rolling mill, depending on the installation environment, has a chance of the temperature increase. The internal heat needs to be cooled by such devices as a small air-conditioner.
Panel Cooling Units
The equipment also handle the dust-cooling, duhuimidification, and dust-filtering for the interior of the control panel. It always maintains the best condition.

2.The Temperature Inspection Of The Steel Material
The temperature of the steel material is inspectable.
It contributes to quality improvement.
Infrared Thermography
The temperature can be measured in surface instead of point. Thermal images can be obtained on the line, and detection is also available.