Non-freon-gas Filter-less & Energy saving
Features of Non-freon-gas Filter-less & Energy saving

Pro
Fewer filter clogs means less maintenance
No fins means no clogging, and a filter-less design simplifies daily maintenance.
Past control panel cooler units needed regular fin and filter maintenance because they released heat with a fin and tube condenser system. GR-Pro Series control panel coolers use a new fin-less condenser. This greatly reduces maintenance and cost because there are no spots in the system that can become clogged and therefore no need for a filter.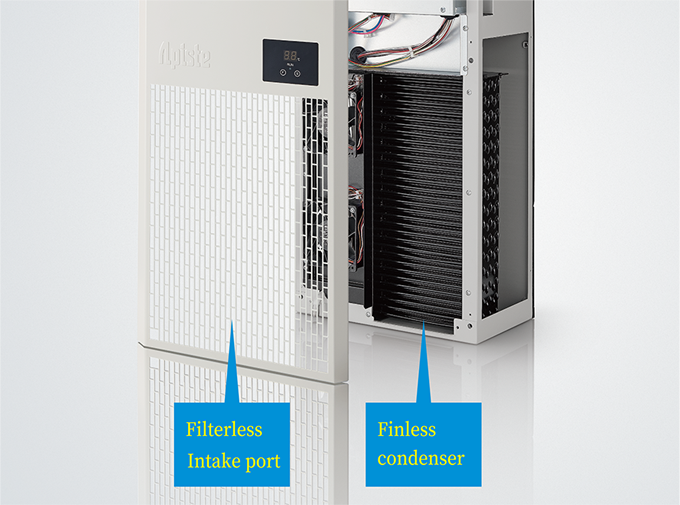 Even when dirty, there is little drop in cooling performance
Testing the effect on cooling performance of dust and oil mist stuck on the condenser shows that while filter system performance drops 40%, the GR-Pro Series keeps 85% performance.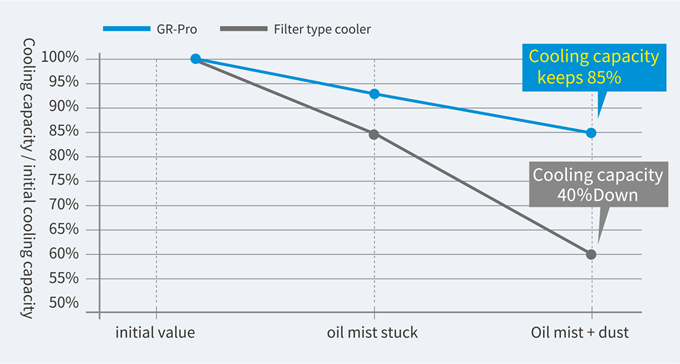 Energy saving & Powerful cooling
Compared to past inverters, saves energy use up to 55% to greatly reduce electricity costs.
Apiste's independently developed inverter controls three key functions: compressor, condenser fan (using a DC brushless motor), and expansion valve (using a stepping motor). Activating before the operating load reaches 100% achieves up to 55%* energy saving compared to past models. Moreover, Triple eco Control reduces stress on electronic components by reducing gradually temperature fluctuationg.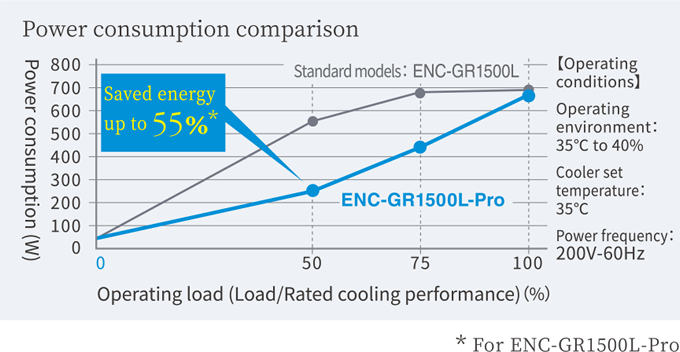 Even in high-temperature conditions, only a small drop in cooling performance
The GR-Pro Series features a decompressor relocated from the capillary tube to the electronic expansion valve. Data from the cooling circuit's condenser temperature sensor and evaporation temperature sensor are converted to pressure and then used to precisely control electronic expansion valve pressure. The best compressor performance and maintains the best cooling performance even under each high-temperature conditions.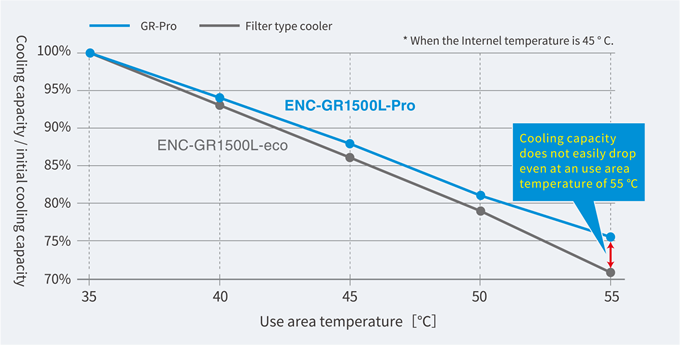 Convenient IoT compatible features
Remote reading and writing
To meet the rising demand for IoT compatible in manufacturing work floors, GR-Pro Series control panel coolers are the first in the industry to provide remote reading and writing and Modbus/RTU communication (RS-485). Connect up to 32 devices to one touch panel or PLC to centrally monitor temperature and change those settings.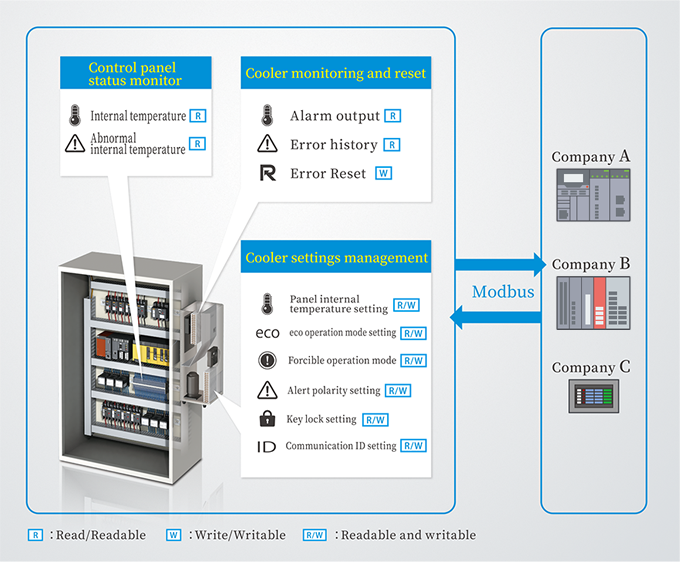 Light, slim, and easy to install
GR-Pro Series can be used in various applications.
Compared to past Apiste filter-less coolers, the GR-Pro Series is an impressive 10 kilograms* lighter. Expect less worry about control panel durability and to spend less time and effort on installation. A depth reduced by 50 millimeters* produces less cooler bulge from the control panel. What's more, the unit can be embedded without a special holder.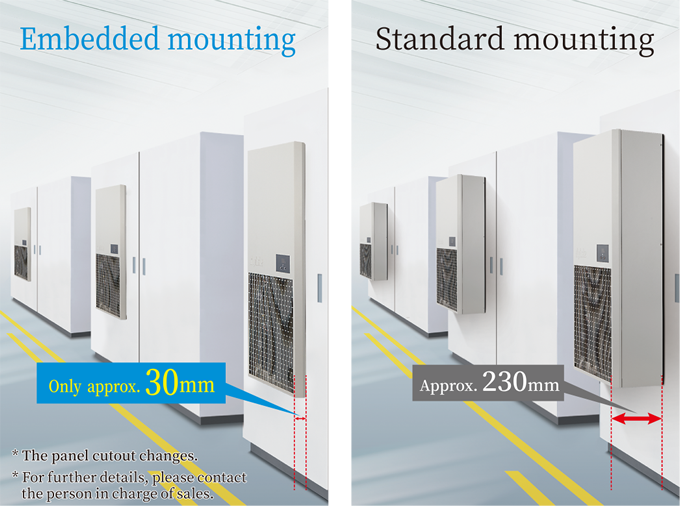 User-friendly universal specs
200-240V free power & CE / ETL / CCC
The GR-Pro Series features a 200-240V free power source compatible with CE/ETL/CCC global standards. For instance, a free power supply makes it possible to set up a new copy line overseas of a manufacturing line operating in Japan or move manufacturing equipment in Japan to an overseas factory. In the past, manufacturers had to figure out which equipment met the voltage requirements of the destination country and then make time consuming and expensive design and floor plan changes, but from now on if you are a manufacturer moving overseas, you can save time and money by choosing the GR-Pro Series.