An oil chiller is a device that cools oil such as lubricating oil for the spindle motor of the machine tool and hydraulic oil for the hydraulic unit attached to the equipment.
Apiste's oil chiller "VSC series" simultaneously achieves high-precision oil temperature control of ±0.1℃, which was difficult with conventional oil chillers, and reduction of management man-hours by means of a HFC alternative emission control method.
Those who are considering product introduction

Please feel free to contact us for inquiries such as on-site confirmation of product introduction, product details and prices.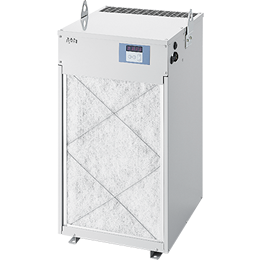 Non-freon air-cooled oil chillers
VSC Series
This is the industry's first R1234yf non-Freon coolant compatible oil chiller. With a global warming potential of less than 1 and ozone depletion potential of 0, this coolant is an environmentally-friendly alternative to Freon. And, of course, these oil chillers are exempt from the Fluorocarbon Emissions Law. VSC-N Series oil chillers greatly reduce maintenance time and labor because they do not need a basic inspection every three months. What's more, they reduce costs associated with collecting Freon when discarding and dismantling equipment.
model list