Temperature control equipment
Oil chiller
Super heat control achieves the durability that every factory floor needs. Cools and regulates the temperature of oil without any loss of cooling performance even in harsh environments.
VSC/VSC-N series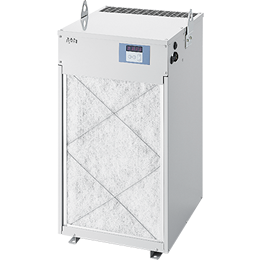 Non-flon air-cooled oil chillers
VSC-N series
This is the industry's first HFO-1234yf non-Flon coolant compatible oil chiller. With a global warming potential of less than 1 and ozone depletion potential of 0, this coolant is an environmentally-friendly alternative to Flon. And, of course, these oil chillers are exempt from the Fluorocarbon Emissions Law. VSC-N Series oil chillers greatly reduce maintenance time and labor because they do not need a basic inspection every three months. What's more, they reduce costs associated with collecting Flon when discarding and dismantling equipment.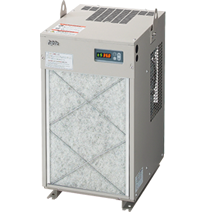 Flon air-cooled oil chillers
VSC series
The oil chiller VSC Series possesses superb durability that goes far beyond conventional oil chillers. VSC oil chillers maintain their outstanding cooling performance even on very hot manufacturing floors and in harsh processing plants environments filled with oil mist and dust particles. To prevent the heat radiation fan from clogging frequently and to prevent drops in performance, breakdowns, and other problems, breakdowns, and other problems, heat radiation fan motor rpm is controlled and kept to within 70% of maximum rpm in line with operating conditions. Compared to constantly running equipment at 100%, this greatly reduces the amount of oil mist and dust particles drawn into the system.