Thermal control equipment
Peltier cooling unit
Complete non-freon cooling. This control panel cooling unit not only protects the panel from heat, it's good for the environment.
NRC Series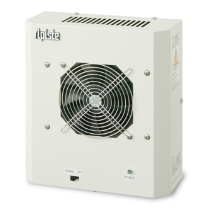 Peltier cooling unit
NRC Series
Cooling is by means of a Peltier element. This element used to cool internal equipment such as computer CPUs is an environmentally-friendly cooling method because it does not use Flon or other refrigerants. Moreover, Peltier systems are much more compact because they do not use a compressor. An internal cycle keeps the panel interior in best operating condition.
model list