Control panel cooling unit ENC-GR1300LE-eco
Control Panel Cooling unit
Non-freon-gas Non-Drain
Side-mounting

ENC-GR1300LE-eco
ENC Series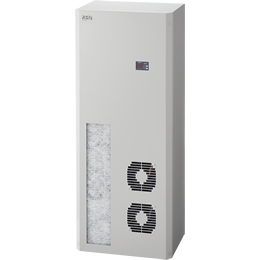 The first player in this industry market non-freon-gas, non-draining control panel cooling unit
| | |
| --- | --- |
| Cooling capacity(W) | 1300 |
| Rated Voltage(V) | Single-phase AC200~240 |
| Mounting type | Side-mounting |
| External dimensions(mm) | H1000×W400×D270 |
| Weight(kg) | 38 |
Product Details for ENC-GR1300LE-eco
Specifications
(50/60Hz)
| | |
| --- | --- |
| Mounting type | Side-mounting |
| Cooling capacity(W) | 1300 |
| Setting Temperature Range(℃) | 25~45 |
| Use Area Temperature(℃) | 20~55 |
| Use Area Humidity(%RH) | 10~85 (No condensation) |
| External dimensions(mm) | H1000×W400×D270 |
| Weight(kg) | 38 |
| Coating Color | Munsell 5Y 7/1 Equivalent color of light beige |
| Rated Voltage(V) | Single-phase AC200~240 |
| Consumption Current: Rated(A) | 3.2/3.0 |
| Consumption Current: MAX(A) | 4.6/4.5 |
| Consumption wattage: Rated(W) | 500 |
| Consumption wattage: MAX(W) | 745 |
| Vibration Resistance | Equivalent to JIS Z 0200 Level1 |
| Dust prevention / dust proof protection class | Equivalent to IP54 (internal circulation route) |
| Refrigerant / Fill ration(g) | R1234yf 525g |
| Noise (dB (A)) | Approx. 73 |
| External Output | Alarm output (No-voltage/normal open: resistive load 250V 2A), Can be switched to no-voltage/normal close by setting |
| Display | Internal temperature/Error/RUN |
*Cooling Capacity : Rated capacity value when ambient temperature is 35°C and ambient humidity is 40%RH , power source & voltage : 200V (100 V model only at 100 V).
(Measuring specification :JIS B 8615-1 the inside of a air enthalpy test method)
*Use area temperature / humidity : Use area temperature / humidity is not meant to satisfy all conditions in temperature and humidity.
*Rating Value : 35°C ambient temperature, ambient humidity RH 40%, power source & voltage : 200V (100 V model only at 100 V).
*Maximum Value : The ambient temperature at MAX value has specification separately.
*Use the product keeping the use power supply and voltage; within ±10% of rated power supply and rated voltage.
*Consumption current and wattage are values during cooling ope ration.
*Dust prevention / dust proof protection class : Excluding drain pipe section
*Reading an instruction manual well certainly before use and p lease use it right.
External dimensions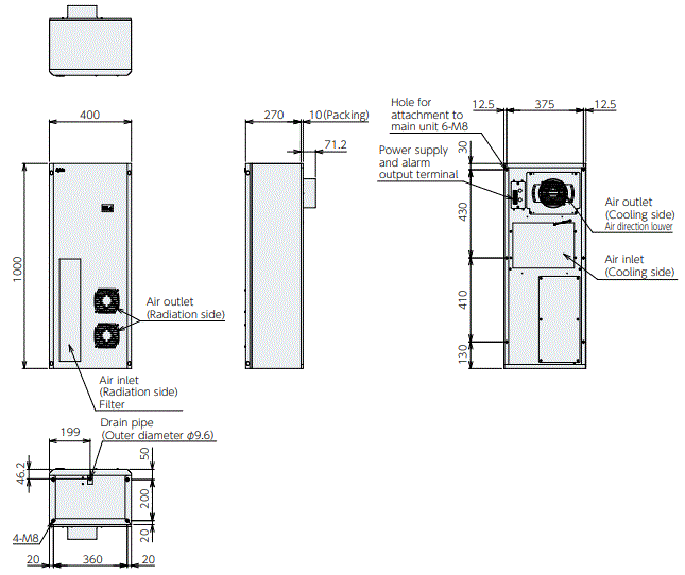 Diagram of Panel Cutout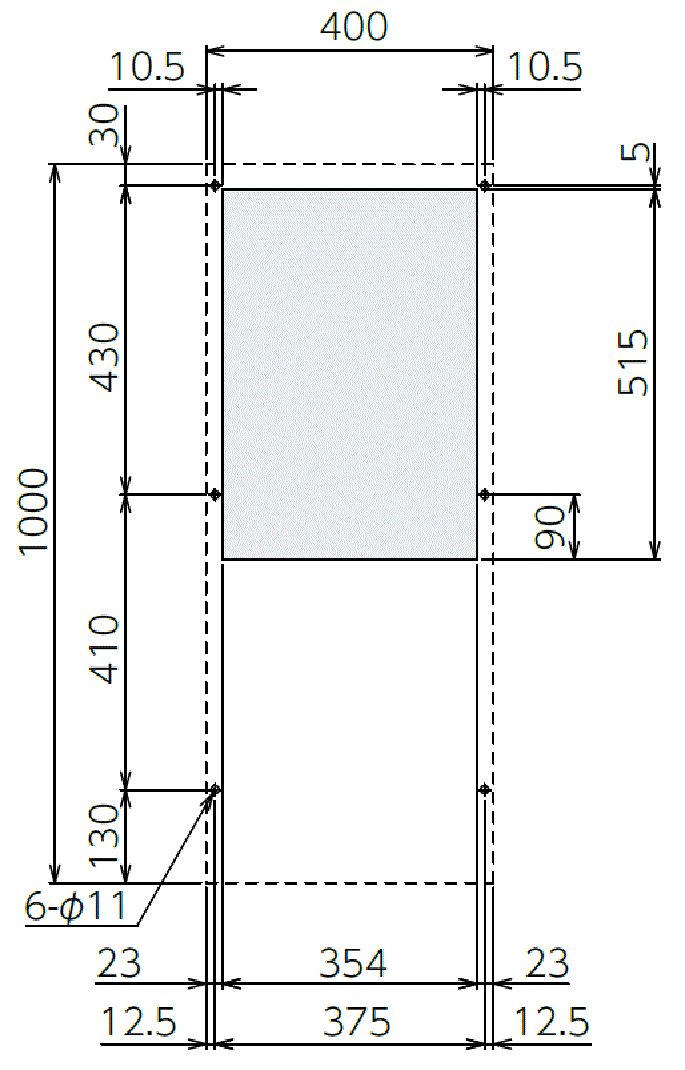 Capacity characteristic chart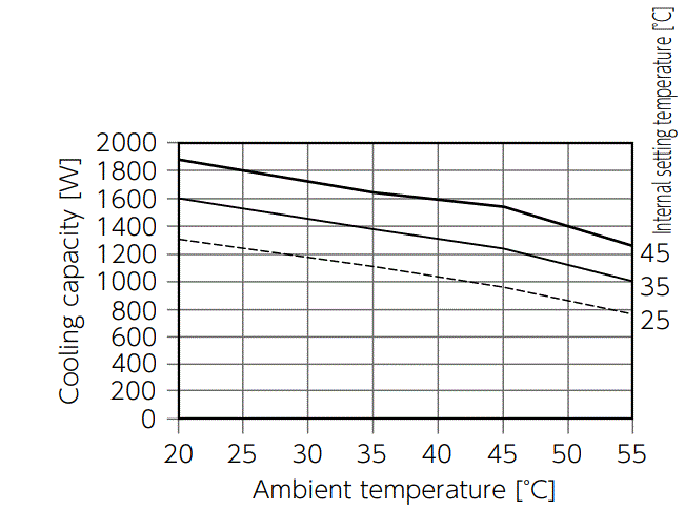 *Contact our sales representative if you are using the control panel cooler in an environment close to the permissible ambient temperature upper limit.
[Caution]
To ensure proper operation of this equipment, read the operation manual before use.
Depending on model and quantity, separate charter delivery may be arranged (additional costs apply).
Overseas at the time of delivery, we recommend packing for overseas separately.
Please check through the cooler between the FA and the power (circuit breakers) to the appropriate specification of the FA breaker cooler.
Cause of failure and be used at the rated power supply out of range.
Please use the service and maintenance on a regular basis.
Failure to maintain regular maintenance, you may be a factor in product performance degradation trouble.
When the outside temperature is low in winter, please do not let the FA cooler continuous operation.
When disposing of this product, you should comply with various laws and regulations, please go to the appropriate.
We're here to give you quick answers to your questions.