Dust collector supplemental information Filtration dust collector (Apiste dust collector GDE Series)
Filtration dust collector (Apiste dust collector GDE Series)
The filtration dust collector traps particles with a filter. As a local exhaust system, it can be said to be a dust collector that can be used almost universally. Since the particles deposited on the filtration filter work as a filtration layer, it is said that filtration dust collectors are capable of trapping even very fine particles. Therefore, as the pressure loss is large compared to other types of dust collectors, the dust needs to shaken off intermittently and so the filter is required to have this ability.
Go to dust collectors - GDE product page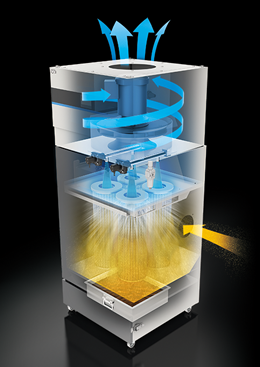 ---
We're here to give you quick answers to your questions.