Features for PCU-R Series
Stability and precision at the highest level of the class
Compatible with a wide range of applications in regulating the temperature of the circulating water.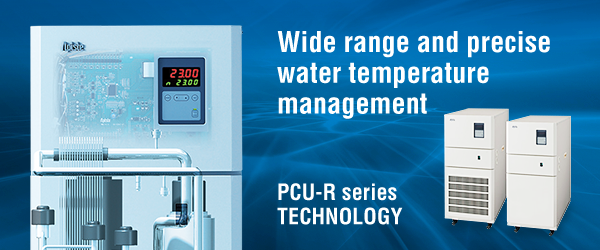 High Precision and High Stability
Newly developed freezing cycle "Triple valve control" and control algorithm "Parallel task control"
Equipped with Apiste's unique refrigerating cycle "Triple valve control" containing three electronic control valves. Always monitors refrigerant temperature, pressure, and circulating temperature. Newly developed algorithm "Parallel task control", based on information measured by various sensors, performs PID control of independent three electronic control valves and compact control heater in parallel and in high precision. Apiste's unique refrigerating technology, which varies cooling capacity in a wide range from 0 to 100% without stopping the compressor, has realized "ultra high precision" "high stability" "wide temperature control range" and "energy saving" which used to be difficult by conventional inverter control and hot gas control.

Three types of control mode
Operation pattern is selectable from three types of control mode in match with installation environment and versatile applications. Efficient and optimum performance can be fully demonstrated conforming to purpose of application. High-precision mode infinitely good in precision, eco mode in pursuit of energy efficiency, and normal mode with high stability are available.
[ Normal mode ]
Control mode putting emphasis on responsiveness and stability. When control shifts either to cooling side or heating side, stability can be maintained by its following capability.
[ Eco and high-response mode ]
Control mode putting emphasis on energy saving and responsiveness.
In cooling, operation at low power consumption is enabled without using a heater.
This mode is also effective when load fluctuation and disturbance are great.
[ High-precision mode ]
"Control mode effective when control of higher precision is required.
The true value is demonstrated in any temperature range from -10°C to 80°C."
Wide range from -10 ℃ to 80 ℃

Temperature control range by Apiste's parallel task control is a wide range from -10°C to 80°C. Continuous operation is enabled in all ranges without stopping the compressor. There is no instability by ON/OFF control, and high stability and high precision are always realized in any temperature range.
Resistant to high temperature circulating water return and load fluctuation

If the circulating water returning to the chiller unit becomes hot due to the load fluctuation of the equipment, the compressor may be turned off and the cooling function may not work in a general chiller. Apiste's parallel task control can control a sudden rise in circulating water without stopping the compressor.
Energy saving and heater capacity -90%
Heater capacity was reduced by 90% in comparison with conventional freezing cycle 100% + heater control, and realized the energy saving. 15. Wide range from -10°C to 80°C
New structural design that pursues high reliability

Bottom tank structure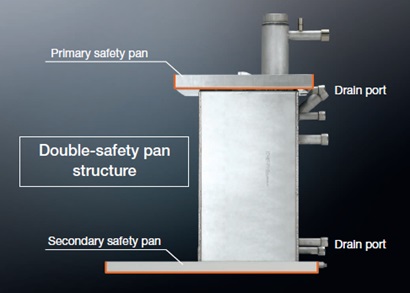 All the parts along circulating water route are installed at the top of tank, which is a structural design unique to Apiste. We adhered to the development of the top installation which is ready for accidental leakage. Newly developed high performance pump pumps up circulating water in the tank to the top, and feeds reliably up to the equipment.
Complete water leakage prevention structure, double safety pan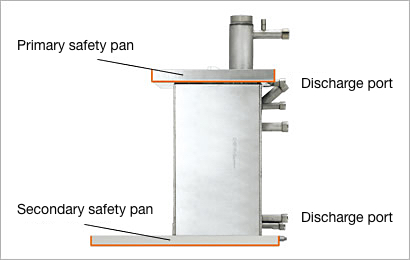 If any trouble should occur, leakage of circulating water is prevented from PCU unit to outside. Thorough measure against leakage is enabled by installing a primary safety pan at the top of the tank, and making the bottom of chiller unit the secondary safety pan. It realizes a high reliability on the field.
Double tank structure for energy saving and stability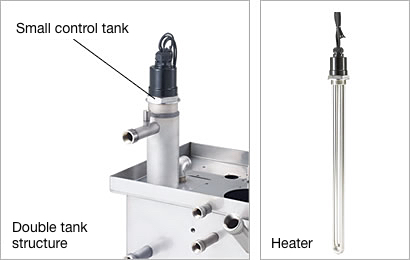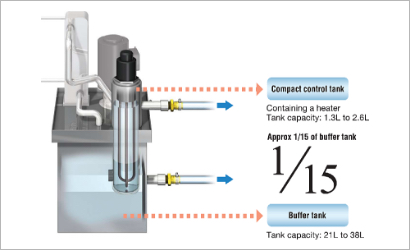 The tank in chiller unit has a double-tank structure consisting of buffer tank and compact tank for control. Circulating water contained in buffer tank is pumped up and cooled by the cooler. Then it is sent to the compact tank for heating control. Heating control does not involve all circulating water in the tank, but only circulating water in the compact tank, which enables drastic energy saving. In addition, instability by irregular heating is eliminated, and high precision and stability are realized.
Cavitation preventing function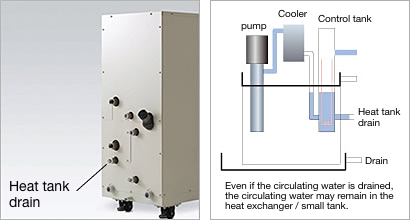 The phenomenon called "Cavitation" may occur in the maintenance of chiller unit. Even though circulating water is drained from the chiller unit, circulating water remains in the heat exchanger, heater tank, and equipment on load side, and bubbles remain in the circulating route when circulating water is fed again, and pressure from the pump is not transmitted. It is naturally impossible to send circulating water. All models of PCU Series are equipped with heater tank drain port for draining this residual water. It is a safety function when feeding water again after drained circulating water.
One-way exhaust structure (air cooling type)
The air-cooling type is designed so that the intake / exhaust paths for heat exchange are in the front and back of the main unit. Unlike the case where the intake and exhaust ports are on the side of the main unit, it is also possible to arrange multiple units closely. This saves space.
Abundant external input / output functions
"Equipped with various external input / output functions as standard to support various external devices and equipment.
It can be used for all purposes without adding new functions."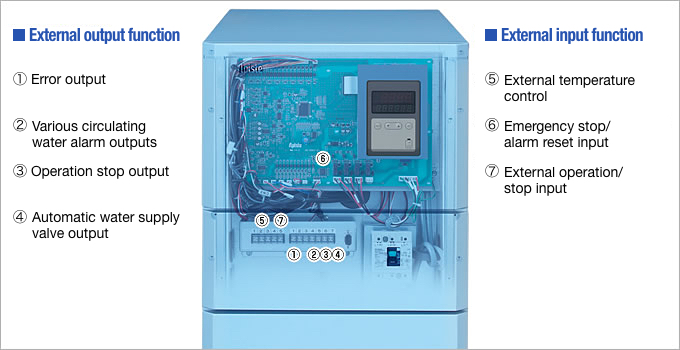 1. Error output

Equipped with non-voltage contact output with maximum load current of AC250V 2A. It can be output to the outside when an alarm occurs. Not only can you communicate with the PLC, but you can also control patrol lamps and buzzers.
2. Various circulated water alarm output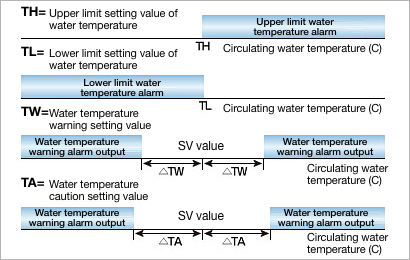 I would like to pay close attention to the temperature control of circulating water. In the PCU series, warning values and caution values can be set in addition to the temperature upper and lower limit settings. Detects the temperature change of circulating water and reliably outputs it to the outside. Realizes complete temperature control of circulated water.
3.Operation stop output
Check the operation / stop of the chiller. It can be used as a confirmation signal when controlling the operation of the chiller from the outside, and it can also be notified by a lamp of the operating status of the chiller.
4. Automatic water supply valve output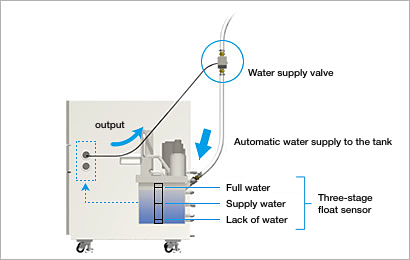 Equipped with an output for a water supply valve that can automatically supply water to the chiller body. It is possible to save the trouble of supplying circulating water. The three-stage float sensor installed in the chiller unit tank detects full water, water supply, and water shortage, and outputs to the external water supply valve when water is supplied. The water supply valve can be turned ON / OFF, and automatic water supply is possible easily.
5.External temperature control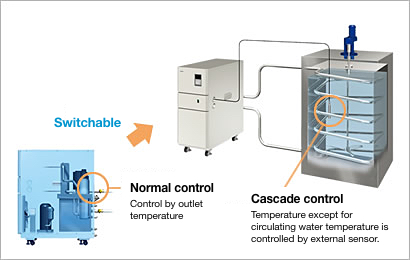 Equipped with an external temperature control input terminal as standard. Normally, the circulating water temperature is measured at the circulating water outlet in the chiller body, but the temperature can be controlled by an external sensor by switching. It supports primary PID control by the circulating water temperature of the work and cascade control by the temperature of the related parts of the work.
Primary PID control
The chiller unit is controlled to keep the temperature of circulating water near the work constant. The temperature of the circulating water is controlled directly to provide a stable control system, but the response to the disturbance is slow and the corrective action is limited.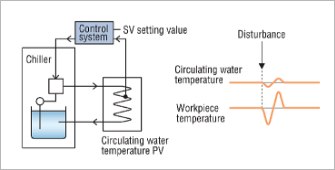 Cascade control
In cascade control, the temperature of the object (PVm) is compared with the set temperature of the object (SVm), and the set temperature of the circulating water (SVs) is determined. Therefore, the temperature fluctuation due to disturbance is controlled quickly.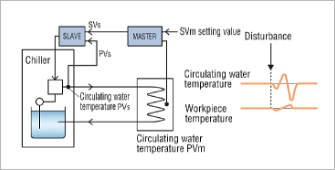 6. Emergency stop / alarm reset input
Equipped with an emergency stop input just in case. The chiller can be forcibly stopped by an external signal. It is possible to link the water leak sensor installed separately and the emergency stop button installed on the controlled device. E-99 is displayed at the time of emergency stop input and can be confirmed as a history. It can also be used by switching to the alarm reset input if necessary.
Emergency stop input from external devices such as leak detection sensor, emergency stop button, etc.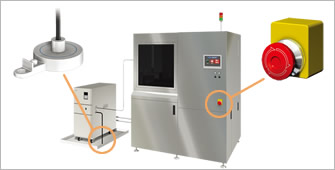 Emergency stop input can be switched to alarm reset input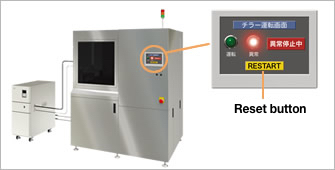 7.External operation / stop input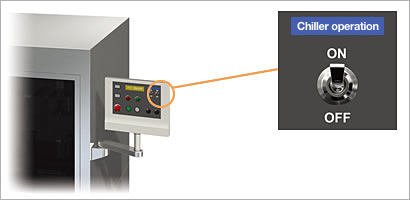 Equipped with an external control input terminal that can be used to start and stop the PCU body from an external device. Since it has a dedicated circuit, it can be operated from the outside simply by preparing the contact signal. When used in combination with the operation / stop output, a higher and more reliable external control can be realized.
Supports data communication with PLC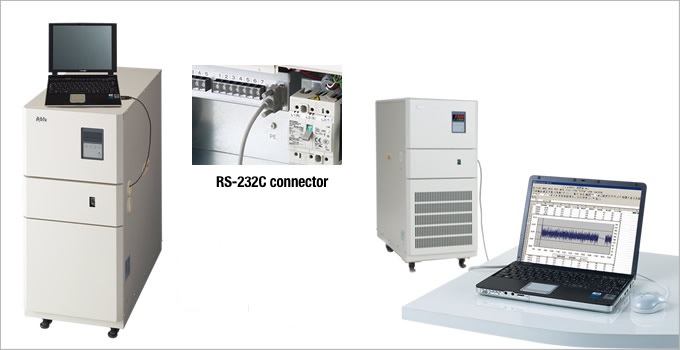 Equipped with RS-232C as standard equipment for remote control and error code identification from equipment, and operation data collection with dedicated software to support various analyses.
External remote control / error code identification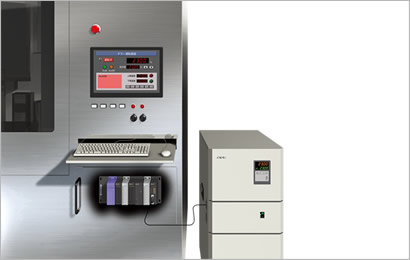 Change the control settings and output settings from the device side. The settings can be changed according to the situation at the site, enabling optimal control. It is also possible to identify up to 31 error codes that the PCU unit has.
Data transmission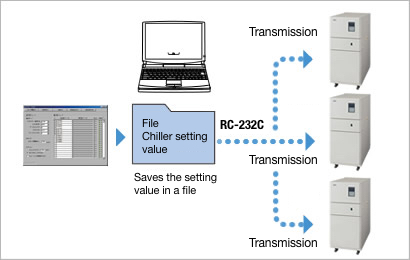 Various setting values input to the dedicated software PCU-S100 can be saved as a file, and the setting data can be collectively sent from the PC to the PCU.
It eliminates the need for input to the front panel of the chiller unit body. This is convenient when you need to input data to multiple chiller units or when you want to send the setting data to a chiller unit installed overseas.
Data collection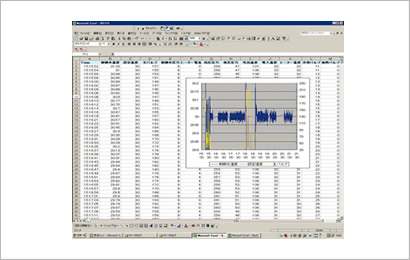 It is possible to collect data on various operating conditions and circulating water temperature of the chiller unit using the external software PCU-S100 and transfer it directly to Excel. It is useful for analyzing the correlation between the device to be temperature controlled and the chiller unit circulating water temperature.
[ Communication items list ]

Control settings
Timer / output setting
Initial setting
Communication settings
Cascade control setting
Name
Name
Name
Name
Name
Control setting mode
Alarm settings
Digital filter
communication speed
Control type
Control mode setting
Water temperature upper limit alarm
Number of display digits
Data length
Cascade scaling upper limit setting
AT startup screen
Water temperature warning alarm
Key lock setting
Key lock setting
Cascade scaling lower limit setting
Proportional band (P)
Water temperature lower limit alarm
Standby mode
Yes / No
Stop bit length
Secondary side auto tuning setting
Integration time (I)
Water temperature caution alarm
Password setting
BCC check function
Secondary side P value setting
Derivative time (D)
Water temperature lower limit alarm
Operation signal enable / disable
Communication address
Secondary side I value setting
Control water temperature (set value)
Delay time
External temperature input
Response delay time
Secondary D value setting
Water valve /
Operation output setting
Anti-freezing operation
Secondary side digital filter setting
ON timer
Main expansion valve
Initialization interval
Secondary side bias correction
OFF timer
Secondary gain correction
[ List of communication items ]

Driving mode
Error history
Custom settings
Communication only
The parameter
Name
Name
Name
Name
Name
Name
Error display
Compressor high pressure
Heating expansion valve
Error history this time
Emergency stop / alarm
Reset input setting
PV value input
Control water temperature
(During measurement)
Compressor high pressure
High pressure switch
Error history 1
Circulating water flow rate
Alarm settings
Alarm reset
Outside temperature
Pump operating time
Compressor protection
thermostat
Second error 2
Bias correction
Run / stop
Control water pressure
Compressor discharge temperature
For full water
Float switch
Error history 3
Gain correction
Operation status check
Cooling water temperature
Compressor suction temperature
For water supply
Float switch
Auto /
Manual setting
Main valve
Initialize
For heating PID output
Heater overheat prevention temperature
For water shortage
Float switch
PV value communication
Timeout setting
Cooling PID output
Main expansion valve
Emergency stop input
Fixed heater value setting
Heater current value
Cooling expansion valve
We're here to give you quick answers to your questions.