Non-freon-gas & Energy saving models
Non-freon-gas & Energy saving models TECHNOLOGY

R1234yf non-freon refrigerant reduce your freon-gas maintenance costs to zero.
The PAU-GR Series uses R1234yf non-freon refrigerant.
PAU-GR Series precision air conditioners are extremely low Global Warming Potential (GWP) exempt from the Fluorocarbon Emissions Control Law. This means that the user can greatly reduce fluorocarbon-related costs and maintenance because they do not need to hire a designated business to collect and discard refrigerant and perform periodic inspections.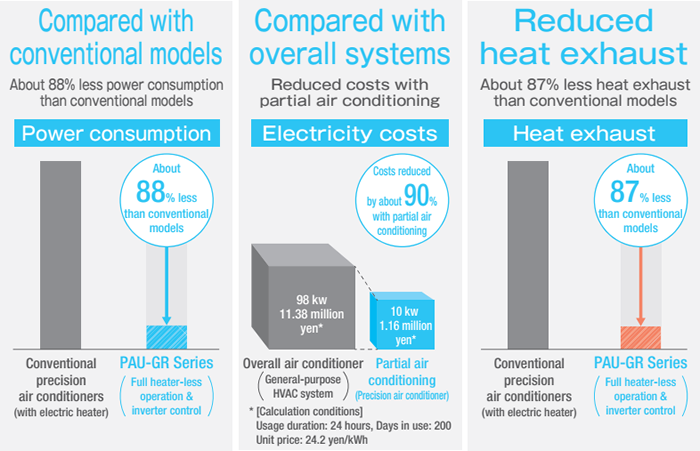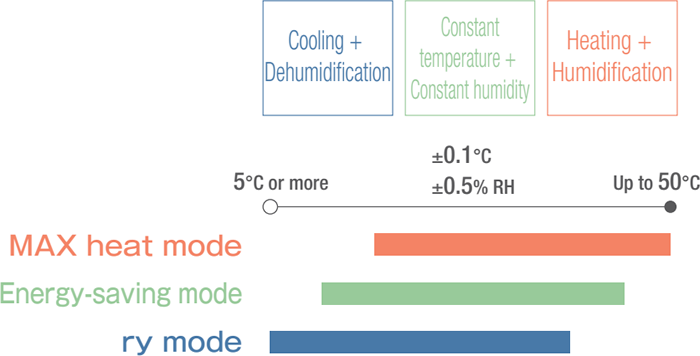 No electric heater operation and inverter control achieves exceptional energy saving and pinpoint critical temperature and humidity control.
Our innovative air technology uses refrigerant condensation heat to eliminate the electric heaters typical of past air conditioner systems and achieve a totally heater-less design. What's more, refrigerant circuit inverter control* ensures that the system operates no more and no less than conditions require.
(*When operating in Energy Saving Mode)
This innovative air technology achieves exceptional energy efficiency capable of reducing power consumption up to 88% compared to previous precision air conditioners. Moreover valve control that precisely controls refrigerant flow rate and PID control with an advanced algorithm combine to provide ultra-precise ±0.1℃ temperature and ±1.0%RH humidity control.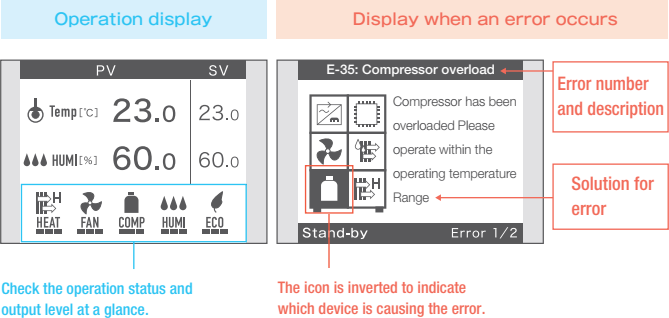 A newly developed LED panel with superb viewability
PAU-GR Series air conditioners feature a newly developed LED panel that makes it easy to visually understand all kinds of information.
Besides displaying icons that make it possible to intuitively ascertain operation status at a glance, when an error occurs, the display provides a speedy solution by showing the error's location and remedy.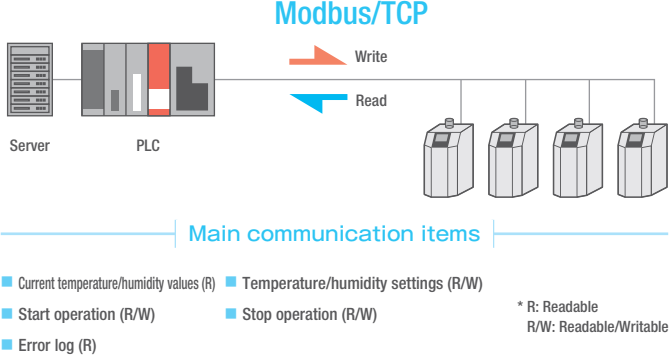 Ethernet connectivity is a standard feature
In response to the shift of device management to the IoT, Ethernet connectivity is now a standard feature.
TCP/IP protocol make it easy to perform precise and consolidated air conditioning equipment management, including connecting PLC, touch panels, and other control equipment, monitoring current settings, and changing settings and error history.